Lego Star Wars The Skywalker Saga is a dream come true for Star Wars and Lego fans. However, there are many reports of the game crashing on both PC platforms (Steam and Xbox App for PC). The Skywalker Saga crashes can occur on startup or even during gameplay. There's also a known crash on the Xbox Game Pass for PC version of the game that happens on launch and players see a black screen shortly after the game's splash screen.

There can be plenty of reasons as to why these crashes are happening. The game can be out of date, specific background tasks are using up essential resources, or corrupt game files. It is also possible that Windows Firewall is not allowing the game through it and that is what's causing the crash.
If you're facing Lego Star Wars Skywalker Saga startup crashes on PC then go ahead and try the fixes listed below. However, before you proceed with these fixes we recommend checking a few things first.
Make sure the game is fully updated. Official updates of the game seem to fix the issues for some players.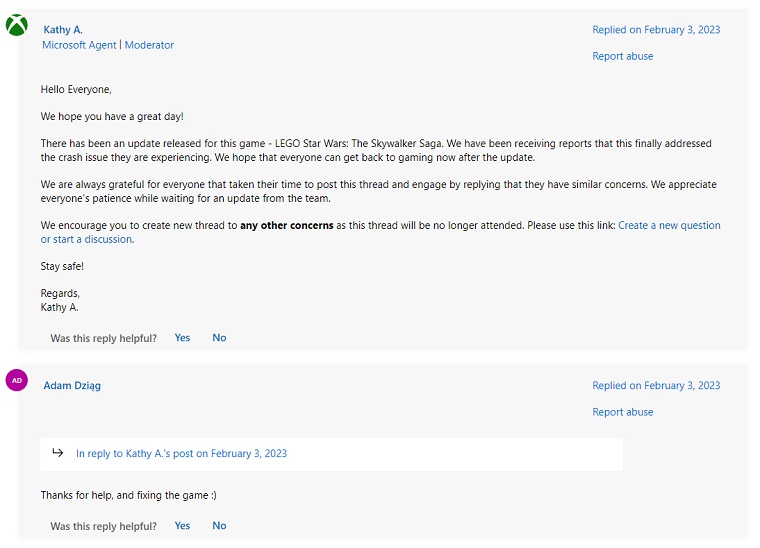 Run the game as an Administrator.

Simply right-click on the game's executable and click run as administrator.
How To Fix LEGO Star Wars The Skywalker Saga Startup Crashes on PC
If updating the game and running it as admin did not fix the Lego Star Wars The Skywalker Saga crashes then take a look at the fixes listed below. You don't need to apply each one just try them out as you see fit.
1. Run The Game In Windowed Mode
Running the game in windowed mode can potentially fix the game's crashing issue. However, this fix can be a little tricky to apply as the crashes often occur on the game's startup. We are listing multiple methods through which you can apply this fix.
To Fix LEGO Star Wars The Skywalker Saga Crashing On Startup:
Follow the path This PC > Local Disk (C:) > Users > (Your PC Name) > AppData > Roaming > Warner Bro. Interactive Entertainment > LEGO Star Wars – The Skywalker Saga and open the file PCCONFIG.txt

Edit the file and in front of Windowed change 0 to 1.
Adjust your game's resolution in this text file according to your screen's resolution.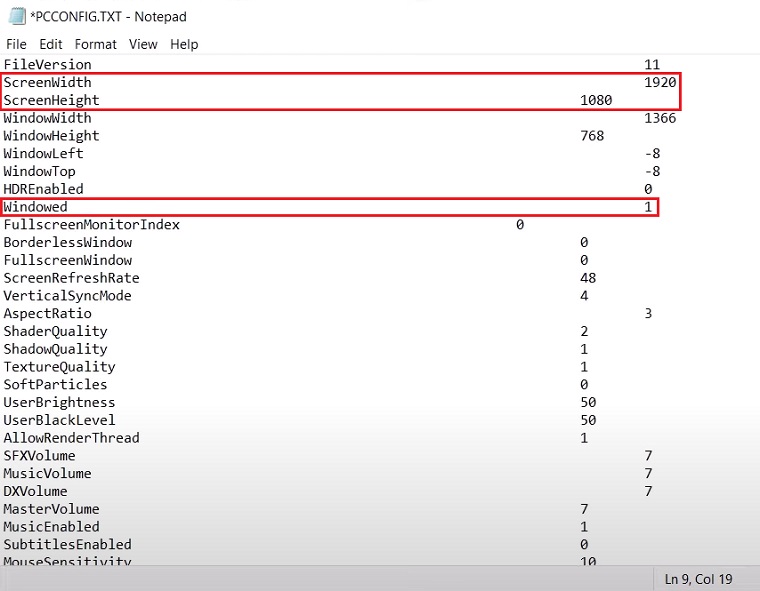 Once the editing is complete go ahead and save the file.
To Fix LEGO Star Wars The Skywalker Saga Crashes During Gameplay:
For players who can launch the game properly, this fix is quite easy. Simply do this:
Launch the game and go to the Video/Display settings.
Put a checkmark next to Windowed Mode. If you don't like seeing the windows bar on top then you can enable Borderless also.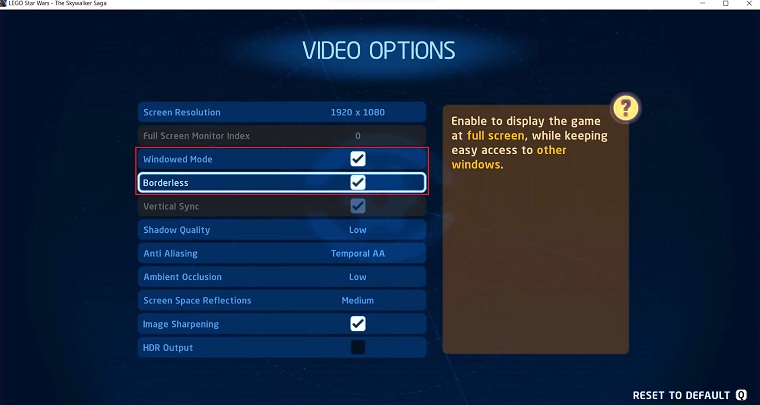 2. Reinstall Microsoft Visual Studio C++
Some players confirm that reinstalling Microsoft Visual Studio C++ fixes the game crashing on startup. Often time corrupt or missing DLL files are the cause for programs crashing or not working properly. Reinstalling it will fix any corrupt/missing DLL files and hopefully prevent the game from crashing.
To do so:
Uninstall Microsoft Visual C++ from the Add or remove programs menu.
Download the latest Microsoft Visual Studio C++.
Once installation is complete go ahead and restart the PC.
Launch the game to see if the crashing problem is fixed. If not proceed to our next fix below.
3. Verify the Integrity of Game Files
Sometimes when downloading the game there can be malfunctions which can lead to corrupt or missing game files. Verifying the integrity of game files is a very useful feature that scans all of your game files and replaces/downloads any corrupt/missing files accordingly. A source on Reddit reports that verifying the integrity of game files fixed the game crashing issue for him by downloading missing files.

To initiate this scan follow the steps below:
Launch Steam.
Right-click on LEGO Star Wars: The Skywalker Saga and click Properties.
Go to the Local Files tab and click on Verify integrity of game files…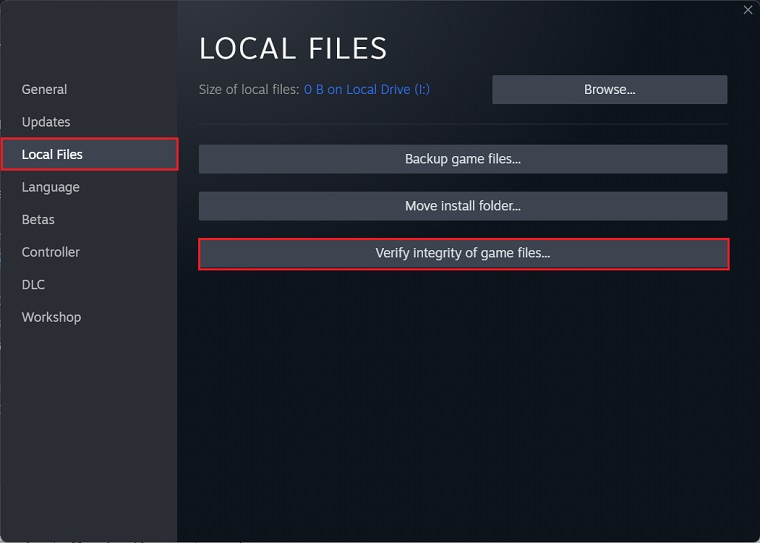 4. Close Resource Hungry Background Tasks
Whenever you're about to launch Lego Star Wars – The Skywalker Saga it is important to stop any unnecessary apps from running in the background. These apps can hog up PC resources like CPU/GPU and cause crashes during startup or during gameplay.
To check and close these background apps go ahead and press Ctrl + Shift + Esc to open the Task Manager. Go to the "Processes" tab and close any app that is consuming high GPU, CPU, or memory resources.
5. Set the Game to High Priority
Setting the game's priority to high can allocate more resources to the game and give it priority over all other running apps. Applying this fix can resolve the crash issues in LEGO Star Wars – The Skywalker Saga in PC.
To do so follow the steps below:
Press Ctrl + Shift + Esc to open Task Manager.
Go into the Details tab.
Locate ModernWarfare.exe and right-click on it.
In the Set Priority menu select High.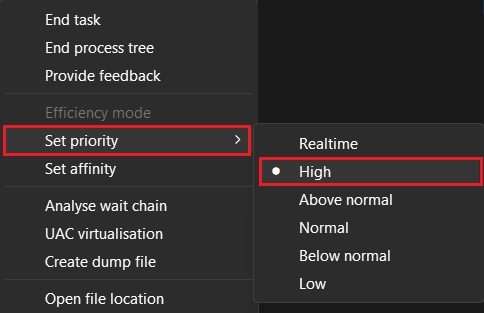 6. Allow The Game Through Windows Firewall
Allowing the game through Windows Firewall has been reported to fix crashes in LEGO Star Wars – The Skywalker Saga. You can do this by following the steps below:
Open Control Panel and view all icons.
Open on Windows Defender Firewall.
Click on "Allow an app or feature through Windows Defender Firewall".
In this new window click on Change Settings.
Scroll down in the list and spot LEGO Star Wars – The Skywalker Saga and make sure both Private & Public boxes are checked.
Press OK to save changes.
Note: If this fix won't work for you then its best to revert this setting by following the same steps.
7. Disable Steam's In-Game Overlay
Another user fixed the crashing on startup by disabling Steam's in-game overlay. Steam's in-game overlay is known to cause crashes in games so applying this fix is worth trying out.

Here's how you can disable Steam In-game Overlay:
Launch Steam and go to Steam settings from the top left corner.
Select the In-Game tab from the left menu and uncheck the "Enable the Steam Overlay while in-game" option.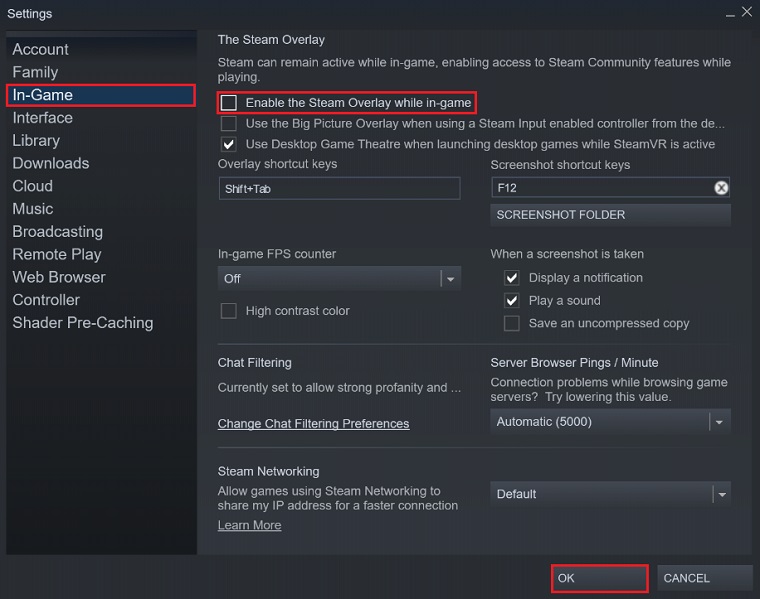 8. Update GPU Drivers
Multiple Redditors claim that updating GPU drivers can fix the LEGO Star Wars – The Skywalker Saga crashing on startup issues. Plus it is recommended to keep the GPU drivers up to date as these updates can improve the performance and stability of your PC. You can update your GPU drivers by visiting the official websites of your GPU manufacturer or using their respective software like Geforce Experience or AMD Radeon Software.
If you prefer a much easier way then you can try using Driver Easy. An all-in-one tool for finding and installing all of your missing/out-of-date drivers on a single click.
9. Reinstall Lego Star Wars The Skywalker Saga
If nothing else has worked for you then reinstalling the game is a good last option to try and attempt to fix the crashing issues. Although it isn't that graphically demanding game but still its size is quite large, sitting at around 40Gbs. So depending on your internet connection speed, it may take some time to redownload the game.
Make sure to uninstall the game via Steam and once uninstalled restart the PC. Once all of that is complete go ahead and start the download in Steam again and let the process run its course.