Overheating is becoming a major cause of a PC hardware failure.
So if your computer is running too hot, then it should be?
Or it shut itself down abruptly while running sluggish. Then you need to check CPU temperature to make sure it's normal and PC fans are also running at their optimal speed.
How To Check CPU Temperature on Windows PC
Windows don't have any built-in feature to show you current CPU temp, but that doesn't mean you can't check CPU temperature.
You have two options either figure it out on your own using the computer's UEFI/BIOS settings or download third-party CPU temperature monitoring software to see your processor's temperature.
Checking CPU temp using BIOS needs PC restart. In this case, you can't get actual on-field CPU temperature readings.
So, we recommend installing a third-party CPU temperature monitor programs. These applications are free and easy to use, moreover they display real-time temp readings.
Check Core Temps with Monitoring Software
The easiest way to check CPU temp is by using Core Temp.
It's a simple, lightweight program that shows you the actual real-time CPU temperature of your computer without cluttering it up with other stuff.
In addition to this, you can customize and even runs with other apps like rainmeter.
During the installation process, it asks you to select additional tasks. I suggest you uncheck all these options and third-party software installation.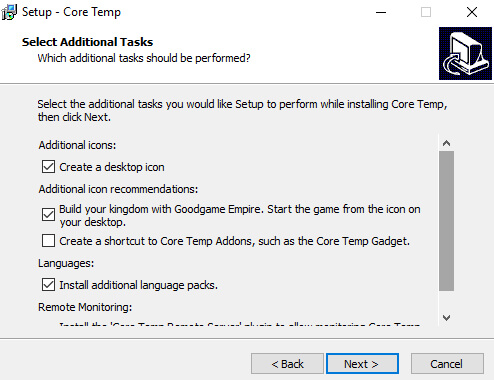 When you run the application, it will appear as series of icons in your system tray showing the exact temperature of your CPU.
As most modern CPU has multiple cores, it shows multiple icons for each core. In this case, it shows you Core temperatures in the taskbar.

Here is the core temp interface, It gives you a bunch of useful information about your computer, where you check the CPU temperature of each of its cores, model, and speed.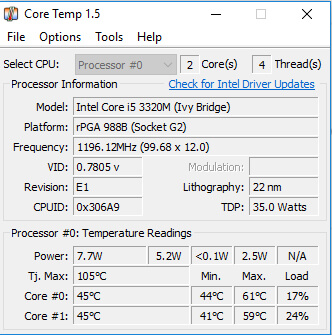 With Core Temp, you can find CPU Temp in Celsius or Fahrenheit. If you need to know how hot is too hot for my CPU, take particular note of the"TJ.Max" value. It is the maximum CPU temp value, at which the manufacturer has rated the CPU to run.
On the main screen, Core Temp tells you four important things about the temperature of each CPU core:
The current temperature
The minimum recorded temperature
The maximum recorded temperature
The current workload percentage
Note: Keeping in mind if your CPU Temp is anywhere near that TJ.Max temp, it is considered overheating which is dangerous so avoid it. Unless you have overclocked your CPU, it is best to keep at least 15 – 25 degrees lower than the TJ Max value.
Core Temp can do a lot more than this but for a basic, it should be all you need to keep an eye on your optimal CPU temperatures.
Core Temp isn't the only option you have here.
When it comes to advanced CPU Temp monitoring, HWMonitor is considered to be the best hardware monitoring software.
HWMonitor reads SMART sensors and shows you accurate readings of CPU temperature including GPU temp, motherboards, and hard drives.
Download HWMonitor's latest version it is also available in the Pro version for more features and options. To find out CPU Temp, mine, for example, is an "Intel Core i5 3320K" and look at the "Core #" temperatures in the list.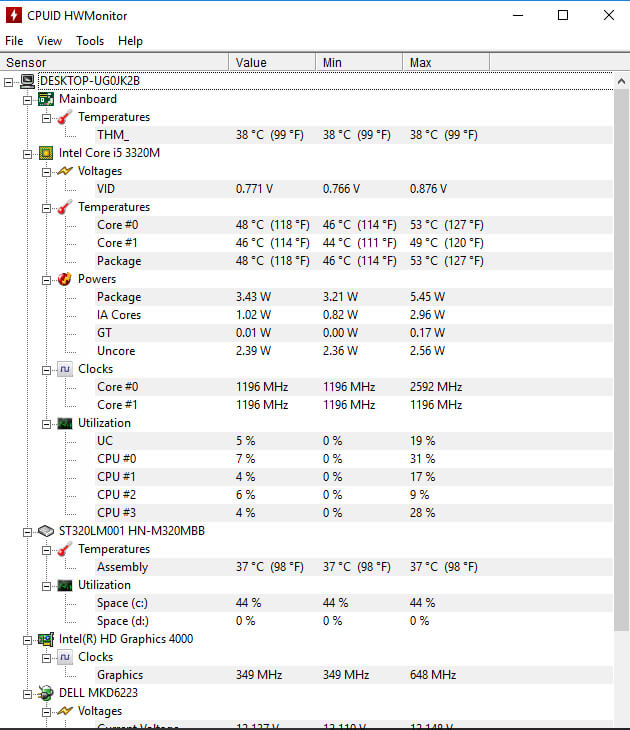 It is also observed that user always complains about overheating. So we recommend you check CPU temperature once in a while. If your PC is regularly overheating, there is probably a deeper cause which you need to look into.
You can download SpeedFan, NZXT CAM, HWINFO,
Keep Monitoring CPU Temps using on-screen Display
Most of the CPU Temperature monitors lack the ability to check CPU temps while running the game in a full screen mode. You can solve this problem by using another popular tool that can keep an eye on PC temps readings even if you are playing games.
Download MSI Afterburner, originally this tool is built to overclock GPU but it has the ability to show you accurate temps readings of CPU/GPU, and fan speed RPM while playing the game.
Here's how to get it set up for full screen temperature monitoring mode:
After installing MSI Afterburner, open your background apps and click on the MSI Afterburner icon.
Open the Settings and navigate to the Monitoring tab. Scroll down and click CPU Temperature, then select the box for Show in On-Screen Display.
Switch to the On-Screen Display tab and choose a hotkey configuration that you'll use to bring up your monitoring data. Anytime you're in a full screen app, you can input your hotkeys to check CPU temps.
What is The Safe CPU Temp For Ideal PC Performance?
Good CPU temps highly depend upon model and manufacturer and it may vary for different computers considering their use. When your CPU is idle or you aren't running any programs., then the healthy idle CPU temp should remain below 50°C (122°F).
However under normal load ideally CPU temps should remain between 55°C to 65°C. You can assume this temp as the normal CPU temp. But when playing a game, rendering a video, or other intensive tasks, your CPU consumes more power, so at this point, your CPU temp should stay under 80°C (176°F).
On the other hand, a powerful laptop might run around 70°C to 75°C due to the limited space and cooling options.
In extreme situations, CPU temps may exceed 80°C (176°F) but don't let your computer remain at this heat level for long if you can avoid it, or you may experience performance slowdowns.
How to fix CPU Fan Error on Boot ASUS, Megatrends
How To Lower CPU Temp If It's Too High?
If under a normal load your PC temp exceeds 80°C then you need to make sure that your system is getting enough cooling.
Is your PC clean and free of dust (including the radiator)?
Are all your PC's fans spinning under load at an ideal speed?
How old is your PC?
When was the last time you applied fresh thermal paste between your CPU and CPU cooler? If it's been over three years, consider re-applying the thermal paste.
Consider Upgrading The CPU Cooler!
If you have applied the above steps and CPU temp is still not decreasing then your cooling solution might not be keeping up with your system demand.
Especially if have the latest CPU model and you are pairing with a stock cooler or a modest third-party cooler or you are overclocking, buying a new CPU cooler will be a good choice.
The Cooler Master Hyper 212 will cost you $35 on Amazon but it's a solid, affordable air cooler. With its larger heat sink and fan, it's a reliable upgrade over stock AMD and Intel CPU coolers.
If you like a CPU cooler bigger in size and price, then Noctua NH-D15 is one of the best air coolers. That will cost you $100 on Amazon. Its large size might block memory access or not even fit in smaller cases so will also need to buy a bigger PC case.
No doubt, liquid cooling solutions provide far cooler temperatures than air coolers with minimal hassle and easy installation. So, if you are into liquid cooling solutions then NZXT Kraken X63 will be the best choice. It will cost you $150 on Amazon.