Unknown Error FFFF in Red Dead Redemption 2 is a very common problem. For most users, it occurs when they join RDR online, but it can sometimes happen in single-player Story mode too. For RDR Online, it usually happens when they join an online session or launch RDR Online. This RDR2 error code is very vague and doesn't help to narrow down the reason why it happens. Users who have contacted Rockstar support report that they haven't been provided with any fix for this issue. Take a look at the picture below to identify if you face the same Unknown Error ffffffff in RDR 2.
There are different reasons for this error depending upon whether you face it in story mode or in RDR Online. In multiplayer mode, the main reason for this error is the modders in your session. Rockstar Games has a history of letting hackers and modders run rampant in their online games and RDR Online is no different. In RDR 2 story mode, however, the unknown error ffff can be due to outdated drivers, unnecessary audio devices, background software like Logitech G Hub, or even the selected graphics API.
Before proceeding to the fixes mentioned below be sure to update Red Dead Redemption 2 through whichever platform you play it on (Steam, Epic Games Launcher, or Rockstar Games Launcher). Make sure you close any resource-hungry apps running in the background while running RDR 2. As these apps can take up necessary resources which the game needs hence resulting in the RDR2 Unknown Error ffff. If you've checked these aspects and still face the Unknown Error ffff in RDR 2, proceed to our fixes below.
How To Fix Unknown Error FFFF RDR 2
1. Update Audio And GPU Drivers
A common cause for the Red Dead Redemption 2 Unknown Error FFFF occurring in story mode is outdated GPU and audio device drivers especially if you have a lot of audio devices connected. Users have also reported that updating GPU drivers can fix the Unknown error FFFF.
You can update the GPU and Audio Device drivers through Device Manager or from their respective websites although you may have to update each device manually one by one.
Alternatively, you can use Driver Easy which will update your GPU and Audio device drivers altogether on a single click. You will not have to go through the hassle of browsing the internet to find the right drivers for each individual device. Download and install it then run the app once it is installed. Once it is open click on check for updates and wait for the software to find all the updates available.
2. Verify & Repair Red Dead Redemption 2's Files
Sources report that verifying and repairing RDR2's game files fixed the Unknown Error FFFF for them. This option will repair any corrupted files and also download any other missing files causing the error.
Doing this is simple enough just follow the steps below for the respective platform you play RDR2 on.
Steam:
Open Steam.
Click on the Library tab.
Right-click on Red Dead Redemption 2 and select Properties.
Click on the Local Files tab.
Click on Verify Integrity of Game Files…
Epic Games Launcher:
Open the Epic Games Launcher.
Click on the Library tab.
Right-click on Red Dead Redemption 2 and select Manage.
Click on Verify.
Rockstar Games Launcher:
Open the Rockstar Games Launcher.
Click on the Settings tab.
Under My installed games, select Red Dead Redemption 2.
Click on the Verify Integrity button.
3. Change Red Dead Redemption 2's Graphics API
A user shared that changing RDR2's graphics API from in-game settings helped them fix RDR2 Unknown Error FFFF. Before doing so they had to delete all the previously saved settings in Documents and disable all cloud services.
Here's how you can apply this fix too.
Go ahead and disable any cloud services running on the PC. If you do not use them then it is best to uninstall them.
Now follow the path Documents > Rockstar Games > Red Dead Redemption 2 and delete everything inside this folder.
Once these both things are done proceed to launch Red Dead Redemption 2 and follow the steps below to change the Graphics API.
Launch Red Dead Redemption 2.
Open Settings.
Open Graphics.
Scroll down to the Advanced Graphics section.
Set Advanced Settings to Unlocked.
Right below that select DirectX 12 in the Graphics API option.
If you're on DirectX 12 already then switch to Vulkan.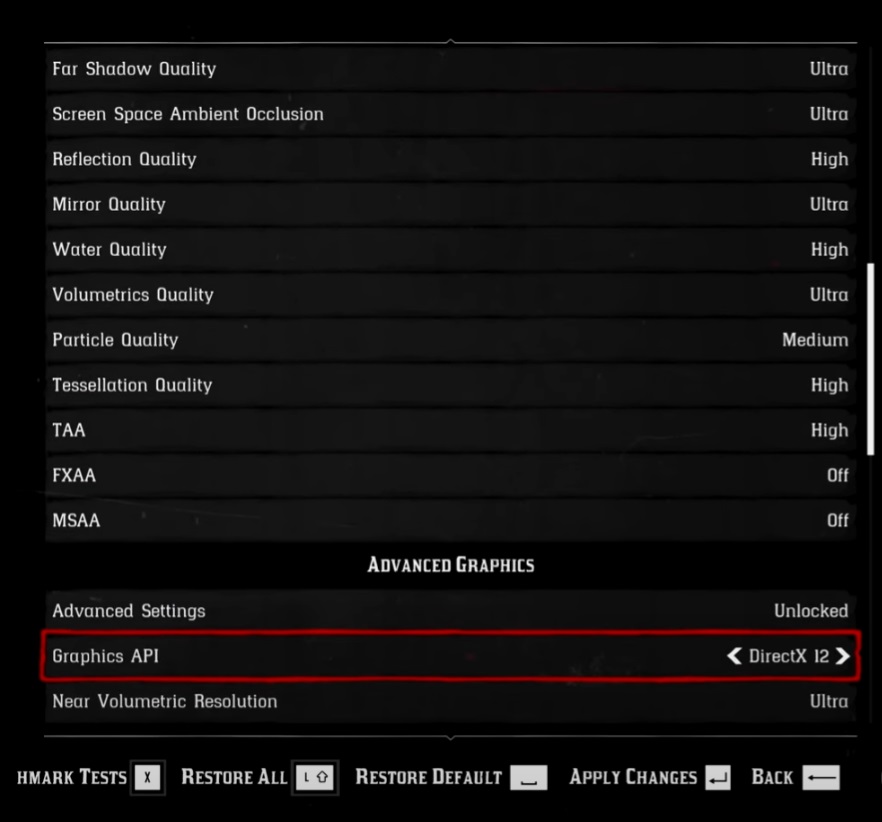 4. Disable Software Like Logitech G HUB at Start-up
Another user said that disabling software like Logitech G Hub from running at Windows startup fixed the Unknown Error FFFF in RDR2. The cause of this fix is unknown but it does work as can be seen below from multiple sources.
So if you're a user of Logitech G HUB or any other related type of software and want to disable them from running on startup follow the instructions below:
Read Also: How To Fix Logitech G Hub Not Loading Stuck on Screen – 2023
Type in Startup Apps and open it from the Windows search bar.
Go ahead and spot Logitech G HUB from the list and switch it to Off.
5. Remove Any Mods Installed In Red Dead Redemption 2
Certain mods don't work well with the game and can cause instability, error, or even crashes. This fix is only applicable to those who are running mods in-game and facing the Unknown Error FFFF in Red Dead Redemption 2. A user reported that removing the mods installed in RDR2 fixed this error.
Depending upon how you installed the mods in the first place you may need to manually delete the mod files. However, if you installed the mods through a mod manager then go ahead and disable the mods from there. If the problem is fixed by disabling these mods then go ahead and uninstall them.
6. Disable Unnecessary Audio Devices
Since audio playback devices are causing the RDR2 Unknown Error FFFF in the story mode so one possible fix could be disabling these unnecessary playback devices except the one that is in use. Doing this will eliminate all possible errors related to the audio devices.
Here's how you can disable these unnecessary playback devices:
Open Sound Settings from Control Panel. (Select View by: Large Icon for easier access)
Under the Playback tab right click and select disable on all devices except the one in use.
7. Allow Background Processing of Vulkan Shaders
If you're running Red Dead Redemption 2 on Vulkan API then enabling this feature can fix the Unknown Error FFFF. It is only possible at the moment on Steam. If you're interested in this fix then go ahead and follow the steps below:
Launch Steam.
Open Settings from the top left Steam menu.
Select Shader Pre-Caching
Put a check next to "Allow background processing of Vulkan shaders"
Click OK to save changes.
8. Start a Solo/Private Online Session in Red Dead Online
This is an unofficial method of starting RDR Online in solo/private session mode. This method can allow players to join up and play together free from modders and hackers causing the Unknown error FFFF RDR2 online. While it's not completely a fix, more like a workaround but it does work since the main reason for this error in RDR Online is modders being in the session. This fix was provided by a Youtuber and the video will be linked below if you need further information on this fix. To replicate the workaround follow the steps below:
It will download the RDO Solo.txt file.
Go ahead open it up and click Save as.
In Save as type select All files (*.*) and name it startup.meta
Move the file to the Red Dead Redemption 2 install directory path Program Files (x64) > Steam > steamapps > common > Red Dead Redemption 2 > x64 > data.
Note: Your RDR2 install directory may differ depending upon where you installed it, so place the file accordingly.
Launch the Red Dead Redemption Online and you'll see that you're the only one in the online session. You can also send this file to your friends and they can use it to join your private session. This is one unofficial way to escape the plague that is modders and hackers causing the Unknown error FFFF in RDR Online. If at any time you wish to undo this, simply delete the startup.meta file.
Note: Rest assured you won't be banned or anything. It may be an unofficial method but it is guaranteed to be safe to use.